Hiring the Hall
The hall is available to hire for functions and meetings etc. Please note, we do not hire out the hall for children's birthday parties.
The hall consists of a main hall, a side area with doors onto a patio and grassed area, and a meeting room. The side area has soundproof shutters. There are tables to seat 80 people, and 100 folding chairs on storage racks. There is a soft seating area in the side area of the hall and a fully equipped kitchen with cooker, microwave, urn and dishwasher. We provide ample crockery, cutlery and mugs as well as 24 place setting for children. It is suggested that for a larger function you hire your own glasses. The hall has disabled access and a disabled access toilet as well as male and female toilets. There is ample parking on site. There are limited times when the hall may be available due to parish functions and regular hire sessions.
Hall Hire Rates
Side Hall Only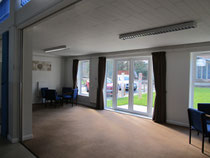 For meetings and groups, use of kitchen for tea/coffee etc but not for parties/food.
parishioner Hire: £8 per hour
Outside Organisations: £12 per hour
Main Hall Only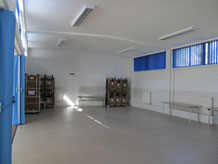 Not full catering; tea/coffee facilities only
Parishioner Hire: £15 per hour
Outside Organisations:
Daytime: £20 per hour
Evenings: £35 per hour, £60 for two hours plus further hours charged.
Meeting Room
Parishioner Hire: £2.50 per hour
Outside Organisations: £3.00 per hour
Whole Hall - Function
(Full use of whole hall including catering etc.)
Parishioner Hire: £20 per hour
Outside Organisations: £30 per hour
£100 refundable cheque deposit required.
NB All parties must be finished and cleared away by 11.00pm
There is no licence to sell alcohol.
Saturday events must be cleared away by 5.00pm at the latest and there is limited hire opportunity on Sundays.
Hall Booking
To book the hall, please call Teresa in the Parish Office, 01264 352829