The Catholic Parish of Saint John the Baptist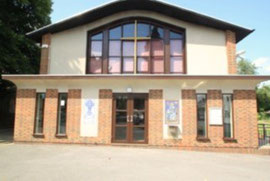 Welcome
Situated in Andover in the county of Hampshire, UK, the parish is in the Catholic Diocese of Portsmouth. With other parishes in Basingstoke, Tadley and Hook, it forms the North West Hampshire Pastoral Area.
Charity Number: 246871
There are many churches who are screening live Masses on their websites.
Please click on the link to the Diocese of Portsmouth (on the right hand side of your screen) and you will find a list of Masses that are being celebrated by Bishop Philip in his private chapel.
You can also visit the website of St Bede's Church, where you will find a link to live Mass screening.
The website: www.churchservices.tv  will give to a link to watch Mass in any Catholic Church in the whole of the UK and Northern Ireland,
 You can also visit www.farleighschool.com and follow the link for 'Day to Day' from the drop down menu, then click on the link for Mass.
Instead of receiving Jesus in physical form, make this Spiritual Communion instead:
My Jesus,
I believe that you are present in this Holy Sacrament of the altar.
I love you above all things
and I passionately desire to receive you into my soul.
Since I cannot now receive you sacramentally,
come spiritually into my soul
so that I may unite myself wholly to you now and forever.
Amen.
Parish Newsletter
This newsletter contains all the information needed regarding opening for public Masses in Andover and Whitchurch.
COVID-19 (Coronavirus) and Worship
IMPORTANT NOTICE RE: FIRST HOLY COMMUNION 2020
PLEASE NOTE THE CHANGES 
The First Confession Service for Group A on Saturday 21st March at 4.00pm has now been moved
to Saturday 29th August at 4.00pm
The First Confession Service for Group B on Saturday 28th March at 4.00pm has now been moved
to Saturday 5th September at 4.00pm.
Parishioner Registration Form (Census Form)
If you haven't registered with the Parish Office, then please find below a Parishioner Registration Form in the 'new' format. Completed forms need to be sent to the Parish Office.