The Catholic Parish of Saint John the Baptist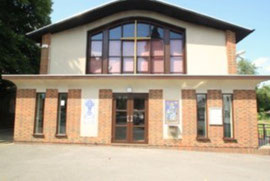 Welcome
Situated in Andover in the county of Hampshire, UK, the parish is in the Catholic Diocese of Portsmouth. With other parishes in Basingstoke, Tadley and Hook, it forms the North West Hampshire Pastoral Area.
Charity Number: 246871
There are many churches who are screening live Masses on their websites.
Please click on the link to the Diocese of Portsmouth (on the right hand side of your screen) and you will find a list of Masses that are being celebrated by Bishop Philip in his private chapel.
You can also visit the website of St Bede's Church, where you will find a link to live Mass screening.
The website: www.churchservices.tv  will give to a link to watch Mass in any Catholic Church in the whole of the UK and Northern Ireland,
 You can also visit www.farleighschool.com/whats-coming-up-at-farleigh-school.php. to follow Mass live streamed from the Chapel of St Therese at Farleigh School.
Instead of receiving Jesus in physical form, make this Spiritual Communion instead:
My Jesus,
I believe that you are present in this Holy Sacrament of the altar.
I love you above all things
and I passionately desire to receive you into my soul.
Since I cannot now receive you sacramentally,
come spiritually into my soul
so that I may unite myself wholly to you now and forever.
Amen.
Parish Newsletter
COVID-19 (Coronavirus) and Worship
These are sad and difficult times indeed.
 Please read the latest decree from Bishop Philip.
What it means for us, in brief, is:
The Church will be closed to all parishioners.
Mass will be said by Fr Austin 'behind closed doors' and the Mass will be offered for the Intention that has been previously put in the diary.
A list of Mass intentions for the week will be put on the Church door and here on the website.
The Parish Office will be closed to visitors but you can phone and leave a message on r 01264 352829 during office hours and we will get back to you.
Please note that owing to the Parish Administrator being on Furlough, a telephone message is the best option as emails cannot be accessed. 
Please don't ring in asking when we will be able to 'go back to normal' as that is a question we cannot answer.
Please remember too, that if you normally give your weekly donation to the Church in the collection plate, you do have the opportunity to make your donation by Direct Debit/Standing Order.
All the forms are on the parish website under the 'Gift Aid and Donations' tab.
[Do bear in mind that we still have all our bills to pay each month, all our Direct Debits for Insurance, Utilities, Copyright and Levy to pay, and your donations are needed to fulfil these payments.]
Thank you for your understanding.
We hope and pray that we all are able to stay well and look after each other and our neighbours.
Mass Intentions during Closure
Farther Austin will be celebrating Mass 'behind closed doors' for the foreseeable future.
Below are the Mass Intentions for each day to 24th May:
IMPORTANT NOTICE RE: FIRST HOLY COMMUNION 2020
The First Confession Service for Group A on Saturday 21st March at 4.00pm has now been moved
to Saturday 29th August at 4.00pm
The First Confession Service for Group B on Saturday 28th March at 4.00pm has now been moved
to Saturday 5th September at 4.00pm.
The First Holy Communion Mass for Group A (Non SJB Pupils) on Saturday 6th June at 11.00am
has been moved to Saturday 12th September at 11.00am.
The First Holy Communion Mass for Group B (SJB Pupils) on Saturday 13th June at 11.00am
has been moved to Saturday 19th September at 11.00am.
The remaining two children's sessions on 31st March /1st April and 5th/6th May will take place
on 1st/2nd September and 8th/9th September instead.
Parishioner Registration Form (Census Form)
If you haven't registered with the Parish Office, then please find below a Parishioner Registration Form in the 'new' format. Completed forms need to be sent to the Parish Office.