The Catholic Parish of Saint John the Baptist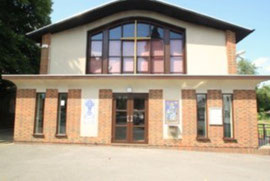 Welcome
Situated in Andover in the county of Hampshire, UK, the parish is in the Catholic Diocese of Portsmouth. With other parishes in Basingstoke,Tadley and Hook, it forms the North West Hampshire Pastoral Area.
Charity Number: 246871
Current Services:
Andover: Saturday 6.00pm Mass 
Whitchurch: Sunday Mass at 9.00am
Andover: Sunday Mass at 10.30am 
Mass in Andover at 10.00am on a Tuesday 
Mass in Andover at 10.00am on a Friday 
Mass in Whitchurch on a Thursday at 10.00am
 Masses at Farleigh School are online or there is limited seating available for 10.00am Sunday Mass, booking through: chapel@farleighschool.com
 It is important to remember that there is still no obligation to attend Mass. 
 Coronavirus restrictions have eased across England. However, we will still be asking you to wear face masks and maintain social distancing at St John the Baptist Church and St John Fisher Church for now. This will help us keep vulnerable members of our community safe. We are constantly reviewing the situation and any changes we make are wholly dependant on the rates of infection in our area, which will have a bearing on how quickly we open up our churches to a full Mass programme. Recognition of the presence of the virus in the population means that certain preventative practices will still be required, and this is important to ensure that Diocesan trustees are seen to be discharging their Health and Safety duties.
• All parishioners are to continue to wear face coverings whilst inside the church buildings.
• All Parishioners are to either provide their details to our stewards, or to use the NHS COVID App to record their attendance at Mass.
• All parishioners are to sanitise their hands, before and after Mass.
• All Parishioners are to minimise unnecessary touching of surfaces where possible.
 • All Parishioners are to continue to adhere to proportionate social distancing within our church, for the safety and wellbeing of all.
The seating plans in Andover have changed . . . . 
Each bench on the left hand side of the church will be divided up into three sections for single people and couples.
The right hand side of the church will have no seating restrictions but will be for families and larger family groups.
The balcony will have no seating restrictions, but please be considerate if people wish to sit away from others.
If you are unwell in any way, please do not come to Mass.
Do remember: 
There are many churches who are screening live Masses on their websites.
Please click on the link to the Diocese of Portsmouth (on the right hand side of your screen) and you will find a list of Masses that are being celebrated by Bishop Philip in his private chapel.
You can also visit the website of St Bede's Church, where you will find a link to live Mass screening.
The website: www.churchservices.tv  will give to a link to watch Mass in any Catholic Church in the whole of the UK and Northern Ireland, 
Parish Newsletter
This newsletter contains all the information needed regarding Masses in Andover and Whitchurch.
COVID-19 (Coronavirus) and Worship
Parishioner Registration Form (Census Form)
If you haven't registered with the Parish Office, then please find below a Parishioner Registration Form in the 'new' format. Completed forms need to be sent to the Parish Office.