The Catholic Parish of Saint John the Baptist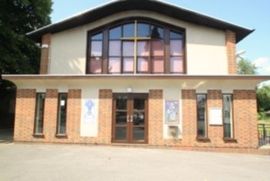 Welcome
Situated in Andover in the county of Hampshire, UK, the parish is in the Catholic Diocese of Portsmouth. With other parishes in Basingstoke, Tadley and Hook, it forms the North West Hampshire Pastoral Area.
Charity Number: 246871
Andover: Saturday 6.00pm Mass (90 seat capacity).
Whitchurch: Sunday Masst 9.00am (48 seat capacity)..
Mass in Andover at 10.00am onTuesday  (90 seat capacity)..
 Masses at Farleigh School are online or there is limited seating available, booking through: chapel@farleighschool.com
 It is important to remember that there is still no obligation to attend Mass. 
All the guidelines apply as before: Give your contact details to the stewards for Track and Trace; sanitise your hands on entry; sit where the stewards indicate; receive Holy Communion at the end of Mass; exit immediately after Communion and please do not gather in groups after Mass. Please remember to bring your mask - we cannot supply them.
If you are unwell in any way, please do not come to Mass.
Do remember: 
There are many churches who are screening live Masses on their websites.
Please click on the link to the Diocese of Portsmouth (on the right hand side of your screen) and you will find a list of Masses that are being celebrated by Bishop Philip in his private chapel.
You can also visit the website of St Bede's Church, where you will find a link to live Mass screening.
The website: www.churchservices.tv  will give to a link to watch Mass in any Catholic Church in the whole of the UK and Northern Ireland, 
Donations
Thank you for your generous support.
We would not be able to continue our work and mission, bringing people closer to Jesus Christ through His Church, without the many people who give their time, talents and financial contributions so generously to support our parish, clergy and Church.
The unprecedented times we are currently going through have brought new challenges for us all. Churches have had to close, and now thankfully re-open but with limited capacity. Like many, our parish has felt the pastoral and financial effects of the COVID19 pandemic.
Our Lord is always here for us all, and we will endeavour to always be there for you through these challenging times. If you feel able, please give generously to support our parish and mission.
Direct Debits can be a great way to secure our income in these uncertain times. It is often easier to administrate both for the giver and parish. The giver only needs to fill out one form and the diocesan finance team will do the rest. You can find the form on the 'Gift Aid and Donations Page' along with a Standing Order form if you would prefer to give by Standing Order and a Gift Aid Form.
(Are you a UK Taxpayer? If so, the government could top up your gift by 25%, through the Gift Aid scheme. Just fill in the Gift Aid form and hand it in to the parish office to take part. It's that easy, and for every donation we receive the government gives us 25% extra, so if you give £20 the parish will receive £25.)
Parish Newsletter
This newsletter contains all the information needed regarding Masses in Andover and Whitchurch.
COVID-19 (Coronavirus) and Worship
Parishioner Registration Form (Census Form)
If you haven't registered with the Parish Office, then please find below a Parishioner Registration Form in the 'new' format. Completed forms need to be sent to the Parish Office.