The Catholic Parish of Saint John the Baptist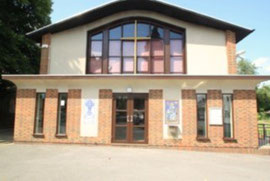 Welcome
Situated in Andover in the county of Hampshire, UK, the parish is in the Catholic Diocese of Portsmouth. .
Charity Name: Catholic Diocese of Portsmouth
Charity Number: 1199568
                    MASSES:
Andover: Saturday 6.00pm Mass 
Whitchurch: Sunday Mass at 9.00am
Andover: Sunday Mass at 10.30am
 Sunday Mass at Farleigh School is at 10.00am 
Mass in Andover at 10.00am on a  Monday, Tuesday and Friday.
Mass in Whitchurch  at 10.00am on a Thursday
Exposition will be held from 9.40am - before Mass - on the first Friday of each month,
and before the 6.00pm Mass on the first Saturday of every month.
Confessions 5.30pm to 5.45pm each Saturday before Mass, or by telephone appointment.
The benches on the left hand side of the Church are reserved for those individuals and couples who would like to
remaining socially distanced - each bench is divided into three for that purpose. All another seating areas are free from restrictions. 
If you are unwell in any way, please do not come to Mass.
Ten Year Mission Strategy
Parish Newsletter
This newsletter contains all the information needed regarding Masses in Andover and Whitchurch.
Parish Journal
The Journal is the monthly parish magazine. If you would like to contribute an article or contact the editors then please email / contact the Parish Office or stjohnsjournal@gmail.com 
Parishioner Registration Form
If you haven't registered with the Parish Office, then please find below a Parishioner Registration Form in the 'new' format. Completed forms need to be sent to the Parish Office.
First Holy Communion 2023 - 2024