The Catholic Parish of Saint John the Baptist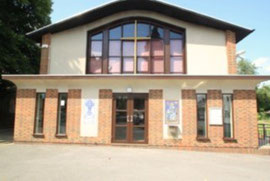 Welcome
Situated in Andover in the county of Hampshire, UK, the parish is in the Catholic Diocese of Portsmouth. With other parishes in Basingstoke,Tadley and Hook, it forms the North West Hampshire Pastoral Area.
Charity Number: 246871
MASSES:
Andover: Saturday 6.00pm Mass 
Whitchurch: Sunday Mass at 9.00am
Andover: Sunday Mass at 10.30am
Mass in Andover at 10.00am on a  Monday, Tuesday and Friday.
Mass in Whitchurch  at 10.00am on a Thursday
Exposition on the first Friday of the month from 9.40am to 9.55am
Sunday Mass at Farleigh School is at 10.00am - booking no longer required.
 From 10th December ALL parishioners are to wear a facemask in Church  unless they are exempt.
All parishioners are asked to sanitise their hands on entry and exit as usual.
Holy Communion will continue to be distributed at the end of Mass.
The Hall toilets will remain closed for the time being.
[There will only be Communion of one kind, no Holy Water in the stoups, and no sign of peace during Mass.]
Doors and windows will be left open - be prepared for it to be colder in the Church!
The sign in 'track and trace' register sheets will no longer be supervised by Stewards, parishioners are asked to
either sign in using the NHS App and QRCode on the door or sign in themselves - remembering to keep a
distance from other people when signing in.  There will no longer be stewards showing people where to sit.
The benches on the left hand side of the Church are reserved for those individuals and couples who would like to
remaining socially distanced - each bench is divided into three for that purpose. All another seating areas are free from restrictions,
but if you are sharing a bench, please use common sense and leave a metre gap between
yourself and your neighbour. Parishioners will not be allowed to stand in the porch for Mass.
We have returned to singing using Hymn books, but these will be kept on
 the benches - not in the bookcase or the bench boxes. Thank you.
All these changes are. of course, subject to the consideration of the prevailing local conditions for the virus and any new government / local authority legislation.
If you are unwell in any way, please do not come to Mass.
Do remember: 
There are many churches who are screening live Masses on their websites.
Please click on the link to the Diocese of Portsmouth (on the right hand side of your screen) and you will find a list of Masses that are being celebrated by Bishop Philip in his private chapel.
You can also visit the website of St Bede's Church, where you will find a link to live Mass screening.
The website: www.churchservices.tv  will give to a link to watch Mass in any Catholic Church in the whole of the UK and Northern Ireland, 
Parish Newsletter
This newsletter contains all the information needed regarding Masses in Andover and Whitchurch.
Bishop Philip's Pastoral Letter
Parish Journal
The Journal is the monthly parish magazine. If you would like to contribute an article or contact the editors then please email / contact the Parish Office or stjohnsjournal@gmail.com 
Parishioner Registration Form (Census Form)
If you haven't registered with the Parish Office, then please find below a Parishioner Registration Form in the 'new' format. Completed forms need to be sent to the Parish Office.